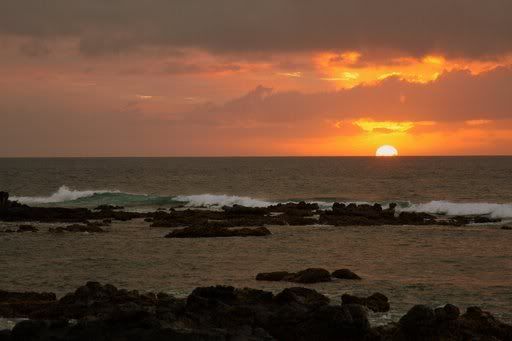 I ka pule aku nei, ua noho iho la ma Kaupoa, ma ka aoao komohana o ke kama moku nui a Hina, e kokua aku i ka ohana Beamer, me ko lakou kahua mele. O ko'u kuleana no ia ka papa oli, a me ka hana no'eau, na'u e koho. Ua a'o i kahi papa hana kama'a la'i, no ka mea, me he helena wawae ia i ke ala kupuna. He nohona kupaianaha keia nohona iho i ke kahakai, me na mele nahenahe maika'i, mai ka ohana Beamer, me Sonny Lim, Owana Salazar, a pela aku me na mea no'eau kani.
The other week, I was down at Kaupoa on the west side of the great island offspring of Hina to help the Beamer family with their music camp. My responsibility was teaching oli and a Hawaiian craft of my choice. I taught ti-lead sandals, because it was like walking in the path of ancestors. It was a remarkable time down at the seaside, with such fine gentle music from the Beamers, Sonny Lim, Owana Salazar, and other talented musicians.
I mea e hoomanao i keia nohona, ua hooholo i ka papa oli e haku i kahi oli aloha no Kaupoa, o ka haku mai la, me he lei, i na ikena hoopoina 'ole o ia wahi. Ua nonoi au aku la ia lakou i ko lakou mau mea a lakou i ike ai, i hoolohe ai, mea kau na'au, a pela aku. A muimuia na mea i ha'i mai la.
To commemorate the experience, I decided that the oli class would together compose an oli aloha for Kaupoa, and weave into it, as a lei, impressions of the place. I asked for things of that place they saw, things heard, things felt in the guts, and so forth; and many things were told:
O ka nani o ka mahina i ka po Kane, he mamalamala i puka mai la ma mua pono o ke alaula; O ka nu'a 'oka'i i lele mai la e hoolaule'a i ka pa'ina mua, me ka inu waina a me ka hookokoke mai la me ka wiwo'ole; o na ale makani i pa mai la me ka hooikaika, hoonua i na hale a me na ale moana; o ke kani hookumu mele, a me ka hana o na haumana kapili 'ukulele. Ua ulu mai la i ka pule piha i ke a'o mai na kumu no'eau mai, i ka hui hoa haumana hoihoi. No laila, ua puka mai keia:
The beauty of the moon of the night of Kane, a sliver just preceding the dawn; hundreds of large moths that came to celebrate our first night, drinking wine and joining us without fear; the winds that built in strength, swelling our tents and the ocean waves; sounds of the creation of music and of the work of students making ukulele. It all grew into a week of learning from skilled teachers to interested and inquiring companions. Therefore this emerged:

He aloha keia no Kaupoa

Mapuana i ka makani ho'onu'a

A he nu'a 'aumakua i ka po Kane

I walea no i ke kani ho'okumu

O na kumu kukui malamalama

Malama aka i na hoa 'imi 'ike

Ua 'ikea, ke aloha no Kaupoa e!
This is an aloha chant for Kaupoa
Carried upon the swelling winds
A multitude of ancestors on the night of Kane
Were enjoying the sounds of creation
Of the teachers, guiding brilliantly
Caring for the spirits of the friends seeking knowledge
It is quite apparent, the aloha for Kaupoa!
Ma hope, kipa mai kekahi o na aumakua 'oka'i e ho'ola'a i ke kamaa la'i kau i ka pakaukau no ka ho'ike!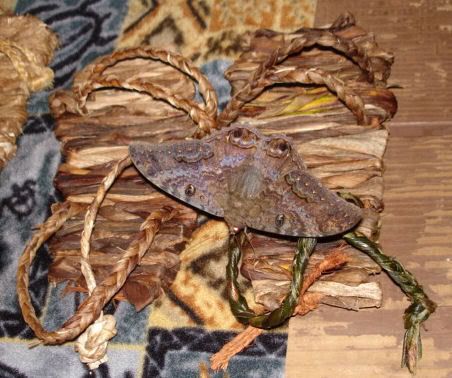 One of the aumakua even came to bless one of the sandals as they were laid out on display!
Ae, ua 'ikea ke aloha no Kaupoa!
Yes, the aloha from Kaupoa was apparent!